Tractors Trunks and Treats
We Need your tractor, trunk, snowmobile, atv, dump truck, etc!
Please click on the links below if you would like to register to bring a trunk or tractor or if you would like to fill out an application to be considered for a carnival game.



If you are new to this event, Here is the low down. Families and friends park their decorated vehicles. The kids come dressed up in halloween costumes and go from vehicle to vehicle trick-or-treating. Basically, it is tailgating and trick or treating combined into one. What makes this type of event amazing is it's all located in one central location, so children do not have to cross streets or walk an entire neighborhood to collect candy.
So that we may properly plan for vehicles, we do ask those families, businesses or organizations wishing to participate in this event to RSVP via e-mail to tttbaraboo@gmail.com
***There will be a Haunted House this year at the fairgrounds! The haunted house will open on Friday, October 13, 2017 It will run 7 days a week until October 31st. from 5:00pm-10:00 pm. Admission is $5 per person. Come on out and get your spook on!***
5th Annual Tractors Trunks and Treats will be held on Saturday, October 28, 2017 11:00 am to 3:00 pm at the Sauk County Fairgrounds. Trick or Treaters please enter on Lincoln Ave.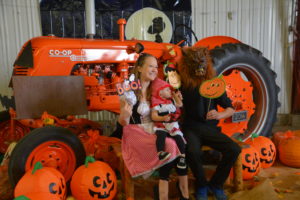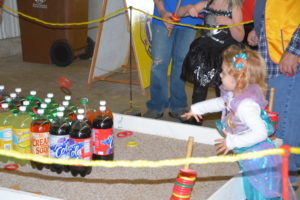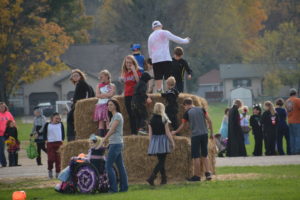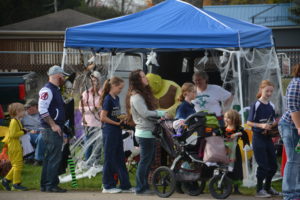 "TRICK OR TREATING"

  WILL BE 11:00 AM to 1:00 PM
Admission is: $1 PER trick or treater
The event will run from 11:00 am to 3:00 pm Come trick or treating, have some lunch and stay and play some games afterwards!
**Please note, some activities may have a nominal fee.
**Food and beverages available for purchase on the grounds.
**For the SAFETY of all, please leave your pets at home.
A committee of volunteers is once again hosting this safe alternative for trick or treating as well as other fun children's activities. This event is completely voluntary and open to anyone in the Baraboo area who wishes to showcase their favorite ride or rides. (There is no fee to participate, HOWEVER YOU ARE RESPONSIBLE FOR PROVIDING "TREATS" FOR YOUR STATION, you will want to anticipate and be prepared for over 1,500 trick or treaters. Please consider joining us for what has become a signature event in our community.
Please click on the links below if you would like to register to bring a trunk or tractor or if you would like to be considered having a carnival game.
2017 Tractors Trunks and Treats Registration Information
2017 Tractors Trunks and Treats Carnival Game Application